The new facility was the scene of a gathering on 17 March to mark the last day of work of Leslie Remund as Executive Director. In attendance were current and former Board members, current and former staff and volunteers, and a number of members and friends.
Led by Marion Pollack, 411 President, several people gave short tributes to Leslie for her leadership and support during a transitional time for 411, complicated by the pandemic.   And, of course, there was much talk of Leslie's role in the development of the new centre.
Leslie spoke of her approach to her work, her appreciation of all the people who make 411 such a great place, and of her plans for the future, including caring for family members.  Then there was cake!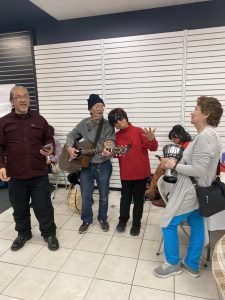 The following Monday was the starting date for the new Executive Director.  Michael Volker comes to 411 after a number of years at the Mount Pleasant Neighbourhood House.  He knows the area and has lots of relevant experience.  He has joined 411 at a time of opportunity as we reopen services and programs in the Fraser Street building.  Michael is wished a warm welcome by the Board and Staff!